There are four general categories of crossflow membrane filtration: microfiltration, ultrafiltration, nanofiltration, and reverse osmosis.
MICROFILTRATION (MF)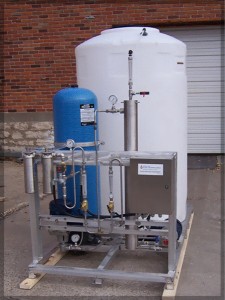 Microfiltration removes particles in the range of approximately 0.1 to 1 micron. In general, suspended particles and large colloids are rejected, while macromolecules and dissolved solids pass through the MF membrane. Applications include removal of bacteria, flocculated materials, or TS (total suspended solids). Transmembrane pressures are typically 0.7 bar (10 PSI).
ULTRAFILTRATION (UF)
Ultrafiltration provides macromolecular separation for particles in the 20 to 1,000 Angstrom range (up to 0.1 micron). All dissolved salts and smaller molecules pass through the membrane. Items rejected by the membrane include colloids, proteins, microbiological contaminants, and large organic molecules. Most UF membranes have molecular weight cut-off values between 1,000 and 100,000. Transmembrane pressures are typically 1 to 7 bar (15 to 100 PSI).
NANOFILTRATION (NF)
Nanofiltration refers to a specialty membrane process which rejects particles in the approximate size range of 1 nanometer (10 Angstroms), hence the term "nanofiltration." NF operates in the realm between UF and reverse osmosis. Organic molecules with molecular weights greater than 200-400 are rejected. Also, dissolved salts are rejected in the range of 20-98%. Salts that have monovalent anions (e.g. magnesium sulfate) have higher rejections of 90-98%. Typical applications include removal of color and total organic carbon (TOC) from surface water, removal of hardness or radium from well water, overall reduction of total dissolved solids (TDS), and the separation of organic from inorganic matter in specialty food and wastewater applications. Transmembrane pressures are typically 3.5 to 16 bar (50 to 225 PSI).
REVERSE OSMOSIS (RO) **
Sea Water RO machineReverse osmosis is the finest level of filtration available. The RO membrane acts as a barrier to all dissolved salts and inorganic molecules, as well as organic molecules with a molecular weight greater than approximately 100. Water molecules, on the other hand, pass freely through the membrane, creating a purified product stream. Rejection of dissolved salts is typically 95% to 99% or greater.
WLFT has created a special document providing information on applications for RO, factors influencing RO, and more. Learn more (PDF). (Note: this file is 0.5 MB in size, and may take a few moments to download.)
**
WLFT specializes in the creation of RO systems, such as the Model TE, the System SM, and Sea Water, and has created a document describing these systems. Learn more (PDF). (Note: this file is 229 KB in size, and may take a few moments to download.)