No matter whether you manufacture or run a commercial/institutional business, the overall success of your endeavor will depend, in large part, upon the reliability and efficiency of your equipment and the ability of plant personnel to maintain it. These days, more is expected from both, bringing preventative maintenance and fiscal planning to the forefront.
21st century technology now offers many upgrades in industrial process equipment and controls that were unheard of only a few years ago. WLFT is proud to offer state-of-the-art equipment for many different treatment modes. Regardless of whether you're considering replacing an old water softener or you want to find out if industrial deionization equipment will offer you just the right benefits and upgrades to your plant's capabilities, we can help.
There are four general categories of crossflow membrane filtration: microfiltration, ultrafiltration, nanofiltration, and reverse osmosis.
Microfiltration
Microfiltration removes particles in the range of approximately 0.1 to 1 micron. In general, suspended particles and large colloids are rejected, while macromolecules and dissolved solids pass through the microfiltration membrane. Applications include removal of bacteria, flocculated materials, or TS (total suspended solids). Transmembrane pressures are typically 0.7 bar (10 PSI).
Ultrafiltration
Ultrafiltration provides macromolecular separation for particles in the 20 to 1,000 Angstrom range (up to 0.1 micron). All dissolved salts and smaller molecules pass through the membrane. Items rejected by the membrane include colloids, proteins, microbiological contaminants, and large organic molecules. Most ultrafiltration membranes have molecular weight cut-off values between 1,000 and 100,000. Transmembrane pressures are typically 1 to 7 bar (15 to 100 PSI).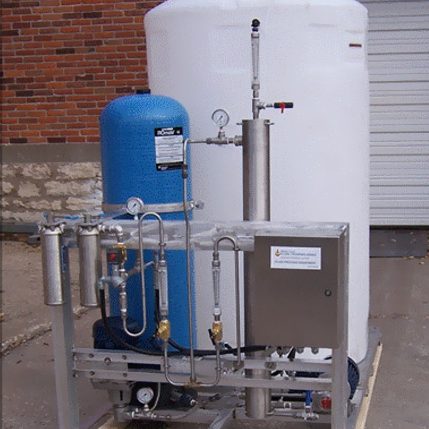 Nanofiltration
Nanofiltration refers to a specialty membrane process which rejects particles in the approximate size range of 1 nanometer (10 Angstroms), hence the term "nanofiltration." Nanofiltration operates in the realm between ultrafiltration and reverse osmosis. Organic molecules with molecular weights greater than 200-400 are rejected. Also, dissolved salts are rejected in the range of 20-98%. Salts that have monovalent anions (e.g. magnesium sulfate) have higher rejections of 90-98%. Typical applications include removal of color and total organic carbon (TOC) from surface water, removal of hardness or radium from well water, overall reduction of total dissolved solids (TDS), and the separation of organic from inorganic matter in specialty food and wastewater applications. Transmembrane pressures are typically 3.5 to 16 bar (50 to 225 PSI).
Reverse Osmosis
Reverse osmosis is the finest level of filtration available. The reverse osmosis membrane acts as a barrier to all dissolved salts and inorganic molecules, as well as organic molecules with a molecular weight greater than approximately 100. Water molecules, on the other hand, pass freely through the membrane, creating a purified product stream. Rejection of dissolved salts is typically 95% to 99% or greater.
No matter what the particular application may be, an ion exchange system must offer reliability as its hallmark. Walter Louis Fluid Technologies systems contain features seldom seen in other commercial systems, such as stainless steel screens and internals, spiral wound retention screens, custom control regeneration systems and much, much more. If you need a softener, dealkalizer or deionizer, you have come to the right place; we custom build to your specifications.
Walter Louis Fluid Technologies strives to be a single-source supplier for all your water treatment needs. In many cases, filtration becomes necessary for reverse osmosis equipment, influent water sources, cooling tower and closed system suspended solids control and many other industrial, commercial and municipal applications.
WLFT is proud to use several different lines of industrial filters that have proven to best address our customers' needs: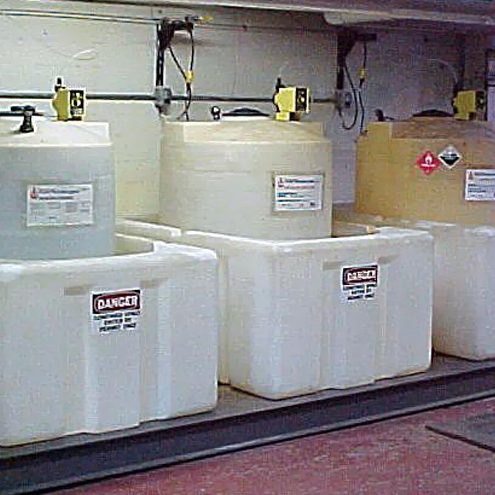 From feedwater pumps to blowdown controllers, we are proud to carry a full line of equipment from some of the world's finest manufacturers. All the companies listed below have passed the test of time and reliability. No matter how large or small your application may be, we can design a system matched to your unique parameters:
Aquamatic
Asco
Blue/White
Grundfos
Flowserve
LMI
Pulsafeeder
SEKO
Stenner
Miscellaneous Process Control
---
Today's plant processes require state-of-the-art communications technologies. We have the resources to provide you with data management systems designed for automation and control of practically any process in your plant.
Cooling water
Glycol systems
Softener or dealkalizer configurations
Boiler feedwater
Feed and bleed systems
ORP and pH control systems for water/wastewater
HVAC systems control
Inventory control
Process monitoring
If you have a process control problem, we have a solution. Give us a call, and let our engineering staff show you how we can help.